In case you all haven't heard (which I doubt), Quiltstory is having a block party with some super fab prizes!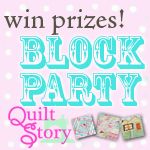 I'm a little intimidated to enter since there are some fantastic blocks already entered, but nothing ventured nothing gained, right?
This is my entry for the "traditional" category. This was a block I made for Rene in Putting the Bee In Christmas VQB.
Next up is my modern block. This one was for Anne in The Stitchin' Bee. She was making her hubby a "math" themed quilt.
Finally, my entry for creative block. This one was for Tracey, also from Putting the Bee In Christmas. Tracey wanted a ticker tape tree and I decided to be a tad unconventional.
You should all go check out the other entries! There are some mighty talented bloggers out there!